How do the Hugh Tracey kalimbas compare with some of the cheaper board kalimbas for students?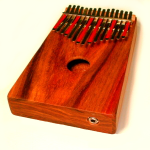 Hugh Tracey Alto Kalimba - a great place to start
The US-made board kalimbas such as Catania, Goshen, or Thumb Drum run about $35-$40 for a one octave model. The Hugh Tracey ALTO kalimba has two octaves, so right there, it is worth twice as much. In addition, you have the added value of the resonating box, which can give you all sorts of cool sounds. The Hugh Tracey kalimbas also come with an optional pickup. And finally, you have the value of knowing that this kalimba comes from Africa, the ancestral home of the kalimba.
While the Alto Kalimba is not for everyone, it is versatile, gives you plenty of room to grow, and is a good value - I've been playing mine for 25 years now, bringing the cost per hour of enjoyment down to about $0.01. It doesn't get much better than that.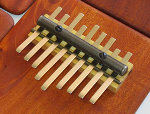 Goshen Student Karimba - a good inexpensive kalimba
On the other hand, the Goshen 9-Note Student Karimba is a very sweet instrument. It is one of our least expensive kalimbas and is a great place to start, especially if you are interested in playing African music. This instrument has the tuning of what is thought to be the "original mbira", possibly over 1000 years old.